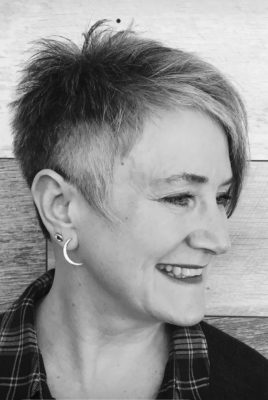 About
Kelly Dennis is Associate Professor of Digital Culture | Visual Studies in the Department of Digital Media Design, and Affiliated Faculty in the American Studies program. Like 25 percent of students at UConn, Professor Dennis was a first generation college student. Dr. Dennis received both her Ph.D. and M.A. in Art History at UCLA.
Dr. Dennis's research focuses on the histories of visual communications technologies as they impact the production and consumption of images, both analog and digital. She is the author of Art/Porn: A History of Seeing and Touching (Berg, 2009), which critically analyzes—from Plato to the Internet—the rhetoric of taste and the senses as they relate to reception of the nude. Her current book projects focuses on the impact of photography's dual role in post-WWII western promotion and in a regional aesthetics of landscape photography. Dr. Dennis's work on Internet art, photography, and performance which have been published in such journals as Art Journal, n.paradoxa, History of Photography, Miranda: revue pluridisciplinaire due monda anglophone, Ácoma: Rivista Internazionale di Studi Nord-Americani, and Strategies, as well as in numerous anthologies and encyclopedias. 
Dr. Dennis joined the Department of Digital Media & Design in 2020 as an Associate Professor of Digital Culture from the Art and Art History Department, where she was Associate Professor of Art History since 2009, and Assistant Professor of Art History since 2002. She teaches Digital Culture and Art History classes at the undergraduate and graduate levels, including Modern Art, Theory and History of Digital Art, Cinematic Storytelling, and graduate seminars in Digital/Internet and digital and internet art.
During spring 2016, Dr. Dennis taught graduate and undergraduate courses in U.S. documentary photography and semiotic image analyses at the Université de Toulouse-Jean Jaures [previously Mirail]. Before coming to the University of Connecticut in 2001, Dr. Dennis taught modern and contemporary art history, critical theory, visual culture and histories of the camera image at Northwestern University, the University of California at Santa Cruz, The School of the Art Institute of Chicago, and the Art Center College of Design. 
Professor Dennis is a Network Organizer for Art+Feminism, and she also organizes the UConn node of the annual Art+Feminism Wikipedia Edit-a-thon, as well as conducting A+F editathon training in the U.S. and in Europe.
UConn Contact Widget
Phone:
860.486.9204
E-mail:
Kelly.Dennis@UConn.edu
Address:
Dept of Digital Media & Design
1 Bishop Circle Unit 4260
University of Connecticut
Storrs CT 06269-4266